Katjana has thirty years of experience in international business, start-up companies, nonprofits, and local government. She has served seven years on the City Council and was twice elected City Council President. Katjana's tri-sector experience in business, non-profit community organizations, and city government qualifies her uniquely to understand and align the incentives and strengths of all stakeholders to solve complex problems. Her leadership experience in business and local government has taught her to value inclusive leadership, which creates buy-in, shared purpose, enthusiasm, and better results.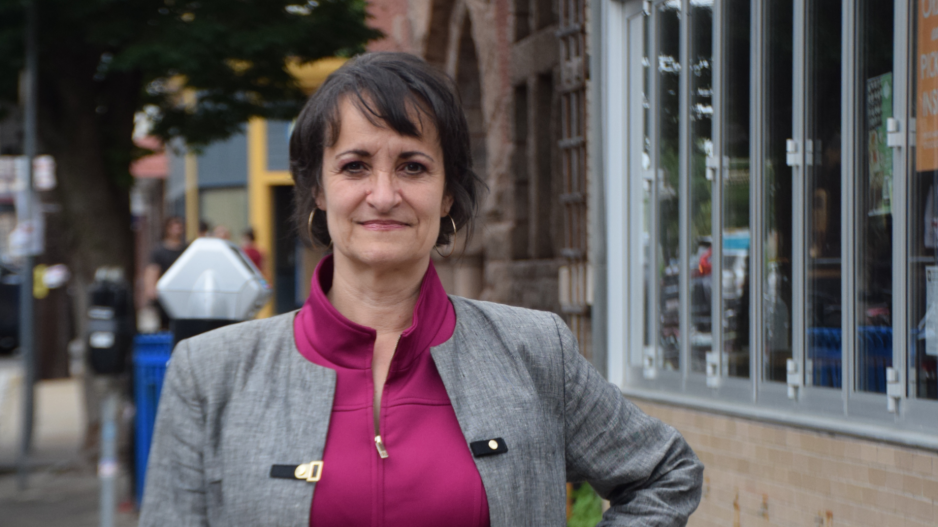 AFFORDABILITY
Affordability is a two-sided coin: one side is how to address the rising cost of living; the other side is how to nurture equitable opportunities for better jobs and incomes. For Somerville to thrive, we need to work together both for affordable living costs and for good jobs. Katjana has a proven record of working successfully toward both goals, as a nonprofit administrator, volunteer, and city councilor.
As Project Director for Workforce Development for the Jamaica Plain Neighborhood Development Corporation, she led an organization that provided training, jobs linkage, career ladders for disadvantaged residents.
As a volunteer, board member, and Board President of Somerville Community Corporation (SCC) for ten years, Katjana worked successfully for over a decade to develop affordable housing and to connect Somerville residents with jobs training and jobs linkage programs.
As a city councilor, Katjana has sponsored and supported groundbreaking programs to improve housing affordability and job opportunities:
Supported Somerville's Inclusionary Zoning Ordinance that requires 20% of new housing units to be affordable / inclusionary housing, and with density bonuses for additional affordable housing development
Supported District Increment Financing (DIF) to finance affordable housing creation
Supported the 100 Homes Program to buy open market homes and convert them to affordable units
Supported the Ordinance for Condo Conversion, giving tenants a right of first refusal to purchase the homes they currently rent; Katjana proposed an amendment to allow first priority to convert for family members
Supported the creation of The Office of Housing Stability to provide housing resources for residents who need assistance
Sponsored a Home Rule Petition to allow us to require Institutional Master Planning for large institutions in our revised Zoning Code
Supported and advocated for the Jobs Creation and Retention Trust Fund, which requires developers to pay for enhanced job opportunities and training for Somerville residents
Supported the creation of the Talent Equity Playbook, planning to bring thousands of new jobs to Somerville by 2030
EQUITY
Katjana has always been an inclusive leader, but she also knows we must work beyond inclusion toward more genuine and permanent equity for vulnerable communities. As City Councilor, she has supported anti-poverty measures and efforts to empower vulnerable communities; women and girls, people of color, and immigrants, and to re-envision policing. In over three decades of public service, she:
Served as Executive Director and CEO of Girls' LEAP Boston, providing violence prevention programs for young women and girls at risk, serving urban girls and women of color
Successfully advocated for sustainable new housing for residents, predominately women-lead / single parent-lead households, at Clarendon Hill Redevelopment Housing project at North Street
Initiated a movement to #InvestInGirls and to bring about structural change to equitably fund all genders. (Girls of color make up nearly 25% of Somerville youth in our High School, and by they attend high school, they have the highest health risk indicators among Somerville teens.)
Advocates for, attends rallies with, and supports Just Us Somerville
Successfully worked with community leaders to create Resolutions for SomerViva, for the city's Office of Immigrant Affairs to hire a 2nd full time position for Spanish Community Coordinator and the first full time position for Nepali Community Coordinator
Fully supports Somerville's status as a sanctuary city
Wrote the legislative order to develop a Guaranteed Income Program in Somerville
Co-sponsored the City Council resolution order declaring a state of emergency for women
- Reviewed the fiscal year 2021 Police Budget and voted to keep the police staffing levels the same as fiscal year 2020 until the "re-imaging Police" community process is completed by the newly-hired Director of Racial Social Justice. 
With her city council colleagues, hired Somerville's first Director of Racial and Social Justice, and is hosting discussions to "re-imagine" the police for the twenty first century
Is committed to creating a civilian oversight committee to increase communication and accountability between the Police Department and our community
COMBAT CLIMATE CHANGE
For the past two decades, Katjana has been a pathbreaking leader on sustainability and environmental justice in Somerville for two decades, has worked to combat climate change, reduce solid waste, and to increase open space and better develop climate resiliency. She:
Was the author and sole sponsor of the 2019 Somerville Green New Deal Resolution, our visionary plan to create a sustainable, affordable, carbon-neutral Somerville; co-authored the Green New Deal for Massachusetts Now Resolution which was adopted by the State Democratic Party Platform on the Environment in 2020
Sponsored the City's Zoning Code requirement for LEED Platinum level efficiency in all new buildings over 50,000 square feet. This climate-focused requirement makes Somerville a leader at both the state and national levels.
Proposed the new Zoning Code include requirements for sustainability, Union Square Overlay District
Sponsored our Zoning Code requirement for Green Factor in all new building projects, that balances the future health and safety impacts of climate change with concerns of affordability, resiliency, and social equity
Sponsored the Building Energy Use Disclosure Ordinance to reduce greenhouse gas emissions by requiring energy use and emission disclosure by large building owners
Sponsored the Native Trees and Planting Ordinance to require minimum percentages of native species
Proposed ordinance amendment for a total plastic bag ban
Sponsored plastic cutlery ban and co-sponsored the plastic straw and stirrer ban for takeout food service
Advocated for fossil fuel divestment since the first day of her first term as a City Councilor
Supported and advocated for green cleaning supplies for use by all municipal and school custodial staff
Supported the creation of a position for City Arborist and the establishment of the Urban Forestry Committee
TRANSPORTATION AND MOBILITY
For more than twenty years, Katjana has worked and advocated for basic transit infrastructure to enable walkable, transit-oriented, mixed-use development in Somerville, increasing access to jobs while decreasing traffic and emissions. She:
Volunteered in the 1990s and 2000s with the Mystic View Task Force and the Somerville Transportation Equity Partnership (STEP), which brought walkable, mixed-use development and a new Orange Line MBTA stop to Assembly Square
For decades has advocated for MBTA and MPO improvements including the Green Line Extension 
Successfully advocated for Somerville Community Path infrastructure improvements; drainage, pavement, and markings along the community path and west gateway entrance to our city
Advocated no decrease in cross town 89/80 bus services, a change that would undermine the connections between East and West Somerville necessary for transit justice and equity
Petitioned for and accomplished the intersection redesign for pedestrian safety at Alewife Parkway and Powderhouse Boulevard, a state roadway 
Supported dedicated bike lanes on Powderhouse Boulevard
Advocated for a vision of streets that will work for 100 years into the future, rather than using the infrastructure from 100 years ago to dictate our plans