Mayor Katjana Ballantyne welcomes the Green Line Extension to Union Square Somerville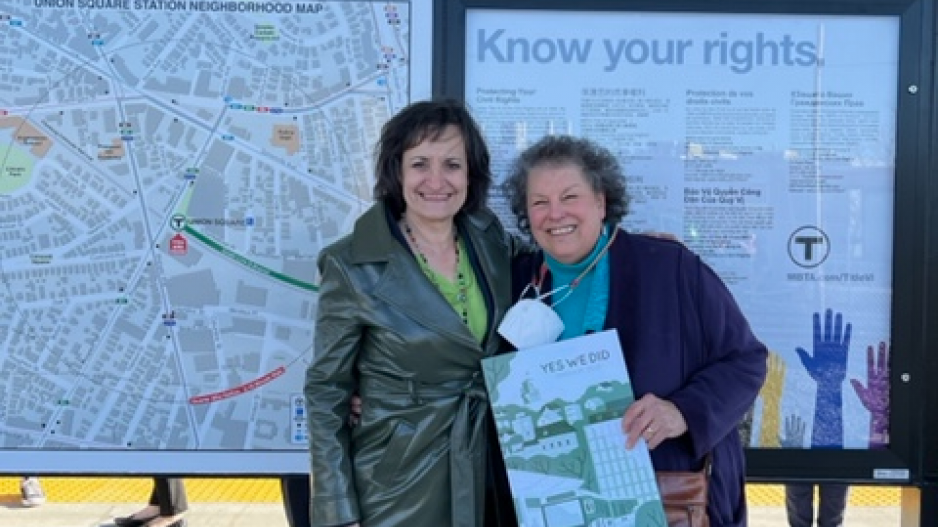 With Ellin Reisner President of the Somervillle Transpiration Equity Partnership (STEP). For four decades she was one of the primary leaders working on making the Green Line extension a reality.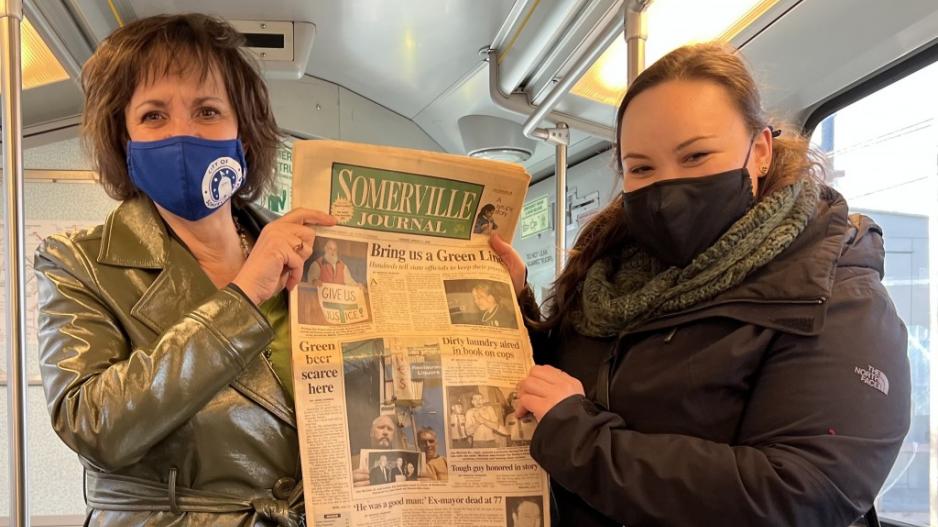 My daughter Iliana was a second grader speaking at the 2005 public meeting for GLX. Today she is 25 and joining me on the first scheduled GLX train ride.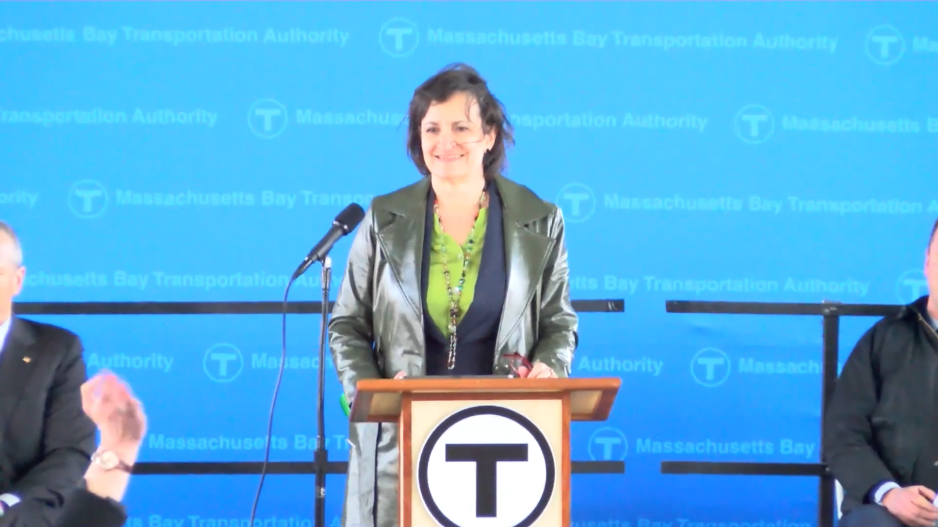 Remarks at opening of Green Line Extension - March 22, 2022
As we celebrate this Green Line Extension (GLX) station opening today it is important to be mindful of history, and to bear in mind that the GLX is only a partial remedy for the many decades of harm, of social and environmental injustice that our community has suffered as the result of post war urban renewal.  This station opening is one, very positive step in the right direction, but we have a long ride ahead of us, and there is much more work to do.
Post WWII urban renewal projects, like the building of interstate 93 through densely populated neighborhoods in Somerville and other communities, caused massive displacement, and created pollution that caused an epidemic of lead poisoning, and other illnesses. Urban renewal planning was focused on expanding facilities for suburban commuters to drive through our urban neighborhoods while it took away all the trolley transit in Somerville at the same time that employment centers in Somerville were failing.  Communities were destroyed, workers and their families were displaced, they were made homeless and ill as they were losing their jobs.
These injustices inspired activism from our residents who have fought three decades and more for this station opening. Groups like The Conservation Law Foundation, and in Somerville the MVTF and STEP laid the groundwork for change by inspiring us to work for the mixed use, transit-oriented planning and development that will help us to re-create a community with good, local jobs, more affordable housing, better public transportation and a cleaner, healthier environment. It inspired a vision for multi modal transit approach with our activist group, Friends of the Community path, to extend the community path along the GLX for pedestrians and cyclists.  All these activists organized the thirty years of community work that made today happen.
Over twenty years ago I joined with those early activists working for the GLX and environmental justice because of their clear vision and our shared desire for justice.   That shared desire for justice has united many of us who stand here today, and this milestone demonstrates what we can accomplish when we work together.  I want to recognize and thank our activists for their vision and great effort, and others who has helped us to realize this progress.
From STEP – Ellin Reisner, Karen Molloy, Wig Zamore, Jim McGinnis, Kristi Chase, Andrea Yakovakis, Steve Mulder, Rachel Fictenbaum, Gabe Distler, BDan Fairchild, Steve Kaiser
MVTF – Bill Shelton, Barbara Steiner, Don Meglio
From Friends of the Community Path - Lynn Weismann, Joel Bennett, Alan Moore, Rachel Burckardt, and Jonah Petri.
From Medford Green Line Neighborhood Alliance - Ken Krause, Elisabeth Bayle, John Roland Elliott, Doug Carr, and Laurel Ruma.
From the Conservation Law Foundation - Doug Foy, Rafael Mares and Carrie Russell.
From the East Cambridge Planning Team -  Heather Hoffman, Alan Greene, and Mark Jaquith.
And some of the local and regional advocates and partners who deserve thanks - Todd Kaplan, Polly Pook, Heather Van Alst, Anne Tate, the Somerville Chamber of Commerce, Somerville Redevelopment Authority, Dan Grabauskas, Fred Salvucci, Jim Aloisi, Rich Davey, David Mohler, Eric Bourassa, Kate Fichter, and Christine Kirby.
And last but not least, the City of Somerville's Staff from Planning, Housing, Open Space. The Mobility Division staff also deserve recognition for the immeasurable amount of outreach they did over the years to keep our residents informed and for all the coordinating work they did with the state.
This very important GLX station represents one milestone in our effort to restore Somerville to a place where residents and their families can live with social, economic, environmental and transit justice. There is still much more work to be done for better access to local jobs, for housing as a human right, for cleaner air and a healthier environment.
Today we should celebrate our shared achievement, absolutely, and we should renew our efforts to keep working for more transportation equity: we need complete, safe, multi-modal streets that work for everyone, we need to keep pushing to get the GLX to route 16, to keep pushing for the north south connector, we need to invest in the Grand Junction Rail, we need to electrify everything, and we should keep pushing to make public transportation free.
A great journey begins with a single step and, today, with a new stop. Thank you.